Why Should I Volunteer at the 2023 iCanBike Camp?


Top 10 Reasons you should Volunteer?
1. It is great fun!
2. You will find it is deeply gratifying to help another person master the skill of riding a bike.
3. You will really enjoy getting to know the rider you're assigned to.
4. It is good exercise for the body.
5. It is good exercise for the soul.
6. It looks good on your resume.
7. It gets you outside!
8. At least one study suggests that "volunteers live longer".
9. You'll be supporting Misssisspi State Kinesiology.
10. You get a free t-shirt!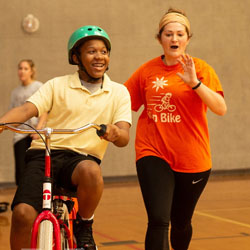 What do Volunteers Do? Volunteers encourage and support riders as spotters. They walk and run alongside the riders as they gain the skills necessary.

How old do Volunteers Need to Be? Volunteers should at least 16 years old.

How do I Volunteer? Click on the button above. Download a pdf form. Fill it out and return it to Dr. Twietmeyer.
Where Should I Send the Form? You have three options: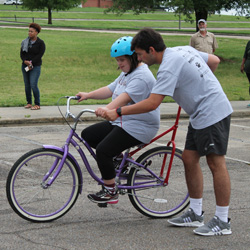 If you are on campus: you can drop it off at Dr. Twietmeyer's office (McCarthy 233-B).
If you are off campus: you can email it to g.twietmeyer@mssstate.edu. Make sure to save the file before you do, so that the information you entered into the form is retained. You can also mail it to:
Dr. Gregg Twietmeyer
Mississippi State University
McCarthy 233-B Mississippi State, MS 39762
Personal Stories from past camps:
"HUNTINGTON, W.Va. — Before this week, 8-year-old Grant Burrows wouldn't even sit on a bicycle by himself. While his friends would ride around for fun, Grant would not join in... To see him on Wednesday, most people would be amazed to see how far he had come so fast.
"It was something that I wanted to be involved with and give something back to the kids," he said. "The program is unbelievable... Look at the smiles on their faces — how could you not love being here?"