The Registration Process:



1. Download a registration form by clicking on the button on this page (above) or call 662-268-7533 or e-mail g.twietmeyer@msstate.edu to request a mailed application.
2. Complete a camp registration form and return it with a check of $100.00 to cover the camp fee. A limited number of scholarships are available based on financial need. To request a scholarship contact Dr. Twietmeyer at the number listed above.
3. Camp registration should be mailed to:
Dr. Gregg Twietmeyer
Mississippi State University
McCarthy 233-B
Mississippi State, MS 39762
Camp registrations can also be dropped off in person to:

Kinesiology Department Office
McCarthy 216
Mississippi State University, MS 39762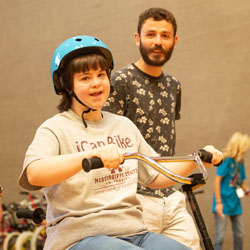 The following requirement need to be met to be eligible for the camp:
- Minimum of 8 years old.
- With a disability.
- Ambulatory without an assistive device.
- Able to side step quickly to both sides.
- Able to wear a properly fitted bike helmet.
- Minimum inseam measurement of 20" (Minimum height is 40").
- Maximum weight is 220 lbs.
Please consider the following as well: It is important to consider behavioral issues as you evaluate this program. An individual may be physically able to ride a bike, but if their behavior is such that they cannot be persuaded to get on the bike and follow instructions, then it is likely this program will not be beneficial. Individuals with severe behavioral issues may be removed from the program if their actions are potentially harmful to themselves or others.
Personal Stories from past camps:
"HUNTINGTON, W.Va. — Before this week, 8-year-old Grant Burrows wouldn't even sit on a bicycle by himself. While his friends would ride around for fun, Grant would not join in... To see him on Wednesday, most people would be amazed to see how far he had come so fast.
"It was something that I wanted to be involved with and give something back to the kids," he said. "The program is unbelievable... Look at the smiles on their faces — how could you not love being here?"