The 2016 Bulldog Bike Camp will be held May 23-27, 2016
at the Sanderson Recreation Center
The First Annual Bulldog Bike Camp hosted by Mississippi State University Kinesiology will be held at the Sanderson Recreation Center May 23-27, 2016. The Bulldog Bike Camp is offered in cooperation with ICan Shine a non-profit charity that travels the country teaching physical activity skills to children with special needs(such as Autism or Down Syndrome). The Bulldog Bike Camp teaches special needs children how to independently ride a two-wheel bike. Through the use of their adapted bicycles and specialized training, the Bulldog Bike Camp has an average success rate of over 80% by the end of the week. Camp Director Dr. Gregg Twietmeyer ran the camp for five years at Marshall University before coming to Mississippi State University in the Fall of 2015.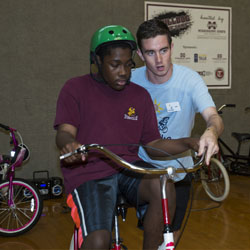 The camp consists of five sessions of eight campers per day for a total of thirty five campers. Each camper attends one session per day. Each session is seventy-five minutes. The camp registration fee is $100.00. A brochure detailing the camp can be found here. A brief video showing the progression riders make during the week can be found here. If you or someone you know would be interested in registering please visit the registration page. The camp has a capacity of thirty five campers. A spot in the camp can be secured with a paid registration form. Each spot will be filled on a first come first serve basis. A limited number of scholarships are available for those in financial need. To inquire regarding a scholarship contact Dr. Twietmeyer at (662) 268-7533 or g.twietmeyer@msstate.edu. After the thirty five spots have been filled, potential campers will be added to a waiting list.
The following requirement need to be met to be eligible for the camp:
- Minimum of 8 years old.
- With a disability.
- Ambulatory without an assistive device.
- Able to side step quickly to both sides.
- Able to wear a properly fitted bike helmet.
- Minimum inseam measurement of 20" (Minimum height is 40").
- Maximum weight is 220 lbs.
Please consider the following as well: It is important to consider behavioral issues as you evaluate this program. An individual may be physically able to ride a bike, but if their behavior is such that they cannot be persuaded to get on the bike and follow instructions, then it is likely this program will not be beneficial. Individuals with severe behavioral issues may be removed from the program if their actions are potentially harmful to themselves or others.
Personal Stories from past camps:
"HUNTINGTON, W.Va. — Before this week, 8-year-old Grant Burrows wouldn't even sit on a bicycle by himself. While his friends would ride around for fun, Grant would not join in... To see him on Wednesday, most people would be amazed to see how far he had come so fast.
"It was something that I wanted to be involved with and give something back to the kids," he said. "The program is unbelievable... Look at the smiles on their faces — how could you not love being here?"